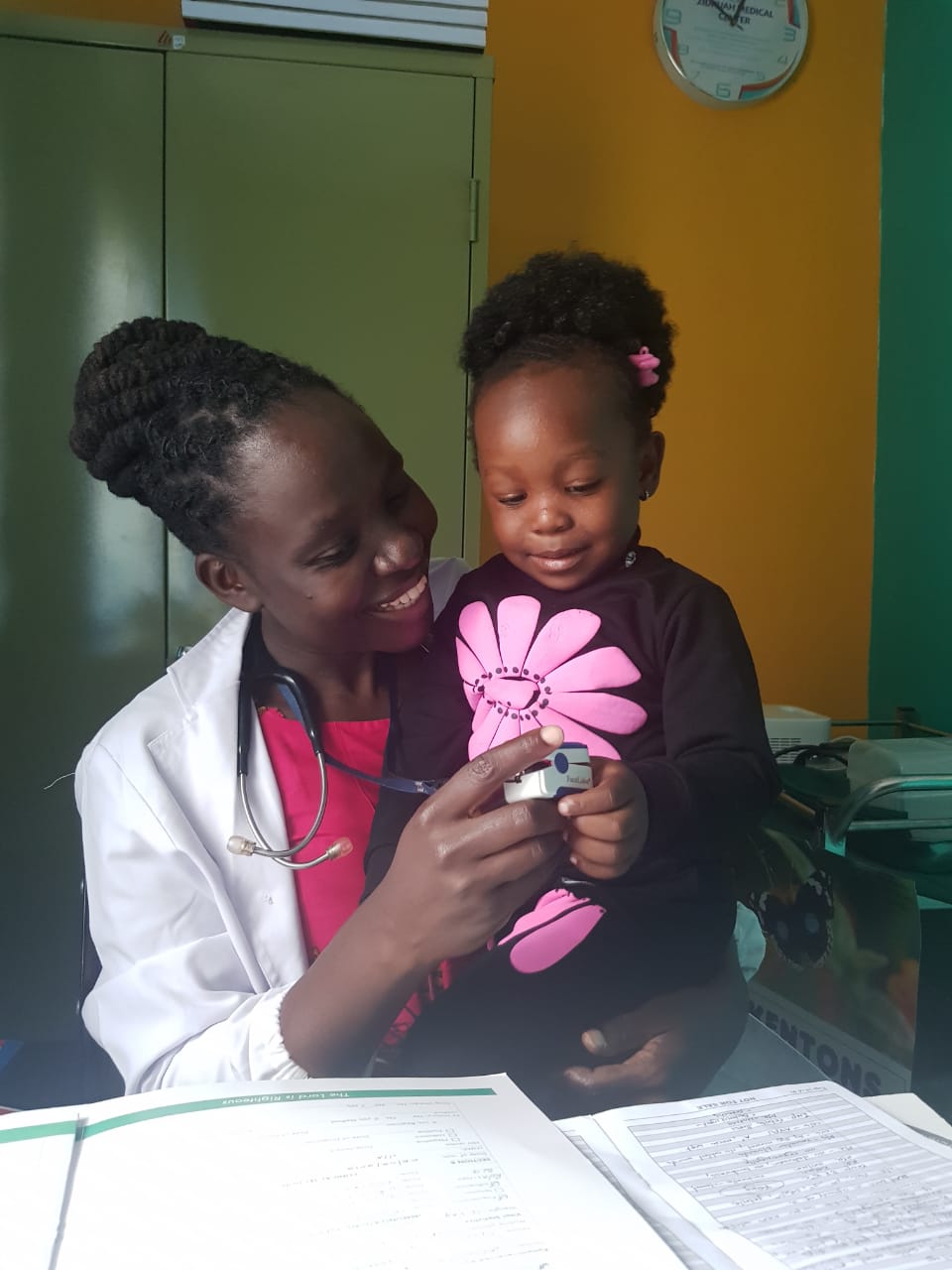 "I believe that an investment in children and adolescent health today will bear dividends tomorrow."
The first born in a family of 6 growing up in Kenya's sugar belt, Nicollate Okoko saw her mother lose 3 children under the age of 2. "It's still vivid in my head. The baby turned blue, and the baby died." Looking back, she strongly believes someone could have done something to save their lives if they had better training. She became determined to make a difference, overcoming challenges along the way that made that goal feel impossible. Even when she had to stay out of school for a year because her family couldn't afford the school fees, she held onto hope that she could pursue her medical training. 
FACES provides HIV prevention and care to children and adolescents in 61 facilities across the county, including 8 newly launched adolescent centers staffed by peer leaders. The adolescent peer leaders work alongside healthcare providers to empower adolescents to take charge of their health. They help create a friendly environment for youth, facilitate support groups, and develop strategies like fun days where HIV education is combined with poetry, art, games, and sports.Thanks to her vision and persistence, Nicollate is now able to touch the lives of children and adolescents every day in her role running the pediatric adolescent care and treatment program for Family AIDS Care and Education Services (FACES). She strives to constantly improve their unique model of providing HIV care and treatment in Kisumu County, an area with an HIV prevalence more than 3 times the national average.
Nicollate considers meaningful engagement of adolescents to be key to their success. "We ensure that they are involved in the planning, the monitoring, evaluation, and decisions regarding their own health." The Operation Triple Zero (OTZ) program empowers adolescents to take charge of their health, aiming for 0 missed appointments, 0 missed drugs and 0 viral load. "All they need is a commitment to the zeros. That makes them take care of their own health, so they are in charge." The adolescents don't just benefit from the programs; they help shape them. "It was the adolescents' idea that they needed a space, they described how they wanted it, so we brought them on board." 
Nicollate's work branches out from there, being able to address the support structures in adolescents' lives. While adolescents are the focus, they make sure that caregivers are not ignored. The caregivers are supported to make sure they recognize the value of the healthcare services FACES provides through a caregiver literacy program. The idea extends to staff as well. "In FACES, we are a family." 
Like any program tackling a huge undertaking like curbing the HIV epidemic, the work is challenging. Nicollate and her team navigate hurdles from the need to use limited resources creatively to tracking down patients who fall out of care. Overcoming those challenges requires "passion for every little or big thing," and that passion comes through in the way Nicollate talks about the patients she serves. Seeing individual patients improve is what keeps her going. She's encouraged by upward trends, like their improving viral suppression rate for 15-19-year-olds. 
Nicollate believes in FACES' model and wants people to see the impact they're having face to face, to show how their ambitious approach can be replicated. "When OTZ was rolled out, no one really believed that it was an initiative that could be rolled out en masse like that. But the approach we used is worth learning about." Their phased approach that brought the program from 3 facilities up to 61 could inspire others in the healthcare field to empower adolescents in a meaningful way that improves their health and mental well-being. 
Immersed in this work, Nicollate sees how important it is not just for the moment, but for shaping children's futures. "Really I believe that an investment in children and adolescent health today will bear dividends tomorrow."