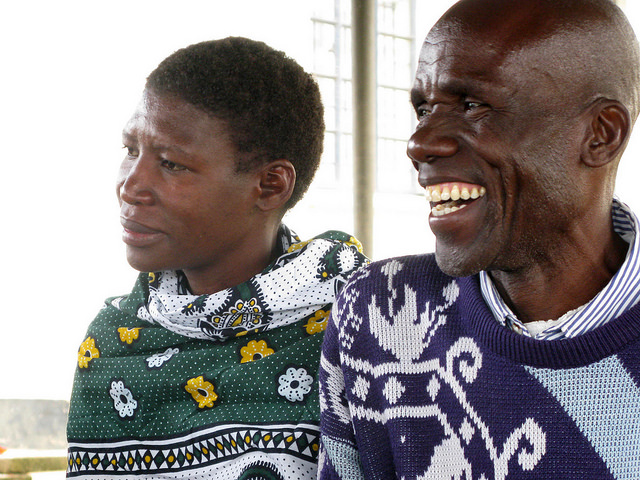 Despite the success of antiretroviral therapy (ART) in preventing transmission of HIV from mothers to their children, HIV prevalence among mothers and children in Kenya remains high. Research shows that fear of stigma and violence limits women's willingness to get tested for HIV and participate in programs designed to prevent mother-to-child transmission. One key factor that could help turn the tide is involvement of a male partner in care.
The Jamii Bora ("better family") study conducted at FACES sites developed and tested a home-based couples intervention program and found that it has potential to advance couple HIV testing and counseling and lead to better health outcomes. The study included both HIV-positive and HIV-negative pregnant women who had not disclosed their testing or HIV status to their partners. Couples participating in the intervention arm of the study had home visits by lay healthcare workers, one male and one female, who were trained in couples counseling. Two visits during pregnancy focused on topics like nutrition, malaria prevention and birth plans, and one postpartum visit focused on topics like infant feeding, family planning and men's health. Every visit included a couple relationship/communication exercise.
The couples reported overwhelmingly positive outcomes from the home visits, including strengthened couple relationships, increased communication and increased emotional support. Women who participated in the program were almost three times as likely to undergo couple testing and HIV counseling with their partners as women who received standard care. The couples in the program had higher rates of male partner attendance at prenatal visits, giving birth at a health facility, exclusive breastfeeding, and maternal postpartum checkups.
The Jamii Bora pilot suggests that a home-based couples approach is workable in rural southwestern Kenya. These are promising findings given that male partners play a key role in preventing mother-to-child transmission. Many prenatal HIV testing strategies reach out to women only, but research shows that men want more involvement. Innovative methods are still needed to reach couples to enhance prevention of MTCT and promote family health.