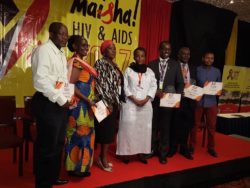 Congratulations to Dr. Elizabeth Bukusi and Dr. Thomas Aron Odeny, two Kenya Medical Research Institute investigators and FACES team members, on winning awards at last week's National AIDS Control Council Maisha Conference!
Dr. Bukusi, co-founding director of FACES, won the Outstanding Research Award in the Clinical Research category, and Dr. Odeny won the Young Investigator Award.
Watch NTV news coverage of the awards here: http://ntv.nation.co.ke/…/2725528-3951500-f8icr5z/index.html.