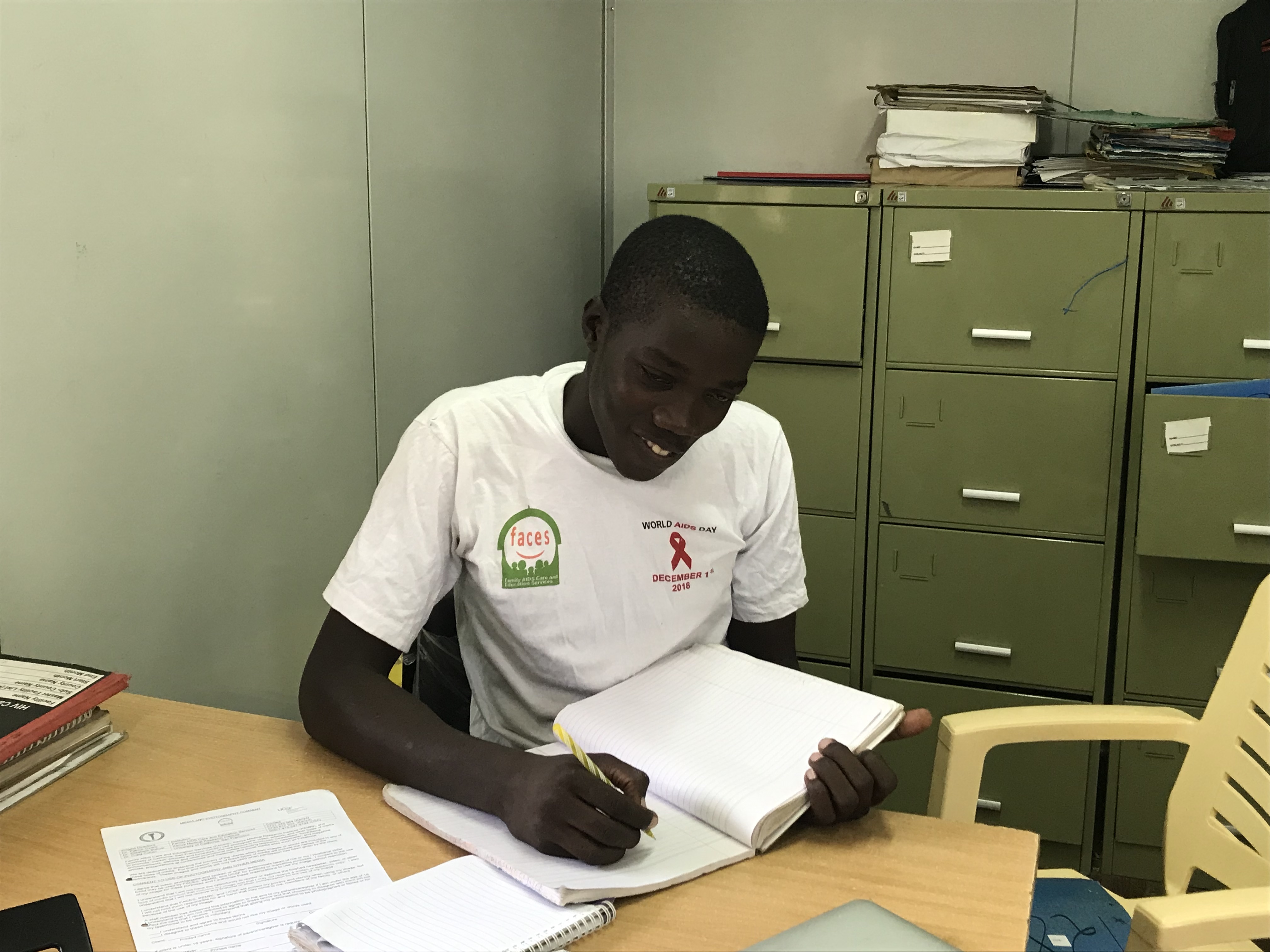 "Trust in yourself, and you can have success." 
When William Odhiambo was 10 years old, he started asking his mother questions about their visits to the clinic and why he was taking drugs. She sat him down and told him that he was HIV positive. "I was about to give up on life," he says. More than a decade later, he's healthy and happy, and he credits Family AIDS Care and Education Services (FACES) with saving his life. "The FACES team made me to be who I am today." He's paying that forward by using his personal experience to help others as an adolescent peer leader at FACES' adolescent center at Kisumu County Hospital (KCH). 
He first started out volunteering at FACES' Lumumba adolescent center in August 2017. The team would take him to events where he shared his life story. He feels that the fact that adolescents hear from and spend time with other people their age is critical to their success. "When you spend time together, it builds your dignity, being that you see that you are not alone. It gives you hope."  It's also much easier for adolescents to share problems and talk about their status with someone their own age who has faced the same challenges. 
The two peer leaders at KCH work with youth 10-24 years old, checking in and making sure they are taking their drugs. But that's not the only thing they can do at the center—they can also use other services like family planning or cervical cancer screening. They offer support groups and schedule fun days during school holidays, where kids can get together and play sports or make art and music. 
That work isn't always easy. One of the most difficult tasks is tracing clients who have high viral loads and need treatment right away. Sometimes they want to come in for treatment, but they can't find transportation to the clinic. It's hard for some of the adolescents to get away from school for appointments, but they are also wary of having visits at school that might expose their HIV status. Sometimes clients won't answer repeated phone calls, and peer leaders have to travel out to their homes to try to track them down. 
Overcoming these challenges can make the success stories even more satisfying. William excitedly pulls out a file to talk about a young man whose viral load started out very high at over 150,000 copies. William visited him at his home and shared his own experience with coming to terms with his status and starting treatment. The boy signed a piece of paper with a handwritten promise to take his medication. One month after that visit, the boy's viral load was down to 49 copies, which is low and considered undetectable. William's pride in helping him turn his health around is evident. 
Even though William is training as an electrical engineer and knows how to wire a house, he feels like the work at FACES is the best place he can be right now.  He wants to help other young people living with HIV accept themselves as he has. He wants them know that they can overcome difficulties in their lives. "Trust in yourself, and you can have success."